Sheng Kuang Sculpture was founded in 1977, and has specialized in producing custom made sculptures and large bronze Buddha statues for more than 40 years. We are well equipped with modern workshops & equipment and staffed with a team of highly skilled craftsmen with rich experience in making Mega Buddha statues. The work of Sheng Kuang Sculpture combines traditional sculpting techniques and high-tech computer measurement, and we have always performed 'in-house' from sculpting, layout, copper casting to on-site assembly and installation. In order to create outstanding and excellent works, we focus on communication and trust with customers. From design to production, our accumulated professional and technical experience has won the affirmation and trust of customers around the world.
The work of Sheng Kuang sculpture has set a number of world records. The "Ushiku Great Buddha of Higashi Honganji temple in Japan", up to 120 meters, has won the "Guinness World Record of the Highest Buddha Statue" in 1993 and "Taiwan Top Ten Outstanding Professionals in the Architectural Industry of Golden Tripod Award" in 1997. "Ushiku Great Buddha" is currently the tallest bronze statue in Japan. In addition, the 72-meter-high bronze Maitreya Buddha statue at Providence Maitreya Buddha Missionary Institute in Hsinchu is also "the world's tallest bronze Maitreya Buddha statue ". The "Fo Guang Big Buddha" at the Fo Guang Shan Buddha Museum in Kaohsiung has a total height of 48 meters and is "the world's tallest sitting bronze Buddha statue". It was completely developed by the Taiwan team and was constructed within one and a half years. Fo Guang Shan Buddha Museum is one of the most famous landmarks in Asia and a "must see" spot for tourists in Taiwan.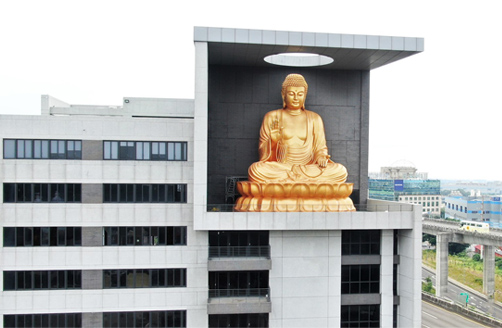 The founder of Sheng Kuang Sculpture adheres to the business philosophy of "Quality First, Service First, Integrity and Responsibility", and hopes that each piece of work can portray a solemn, compassionate and wise image of Buddha. Sheng Kuang dedicates and persists with each and every Buddha and we always produce client's work to the highest quality. Our company has an indoor & outdoor display center showing different Buddha statues of various sizes. Personalized service is always at the front of our minds. You are welcome to visit us and we can customize your statue.